The Chalets Royal, built-in 2020, consists of three royal apartments: Ruby, Emerald, and Sapphire. It is a luxurious accommodation in the heart of Tatranská Lomnica, just a few meters walk from the cable car. The unique mountain design, together with the most modern equipment, guarantees the satisfaction of even the most demanding customer. Chalets Royal is the ideal choice for your vacation or trip to the heart of nature with children or friends.
Chalet Ruby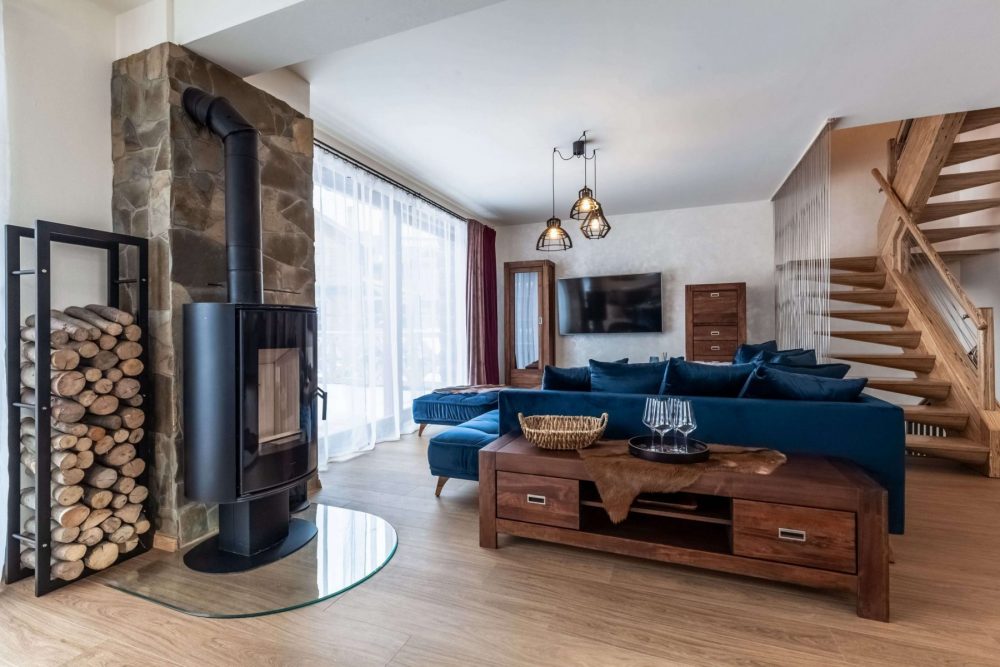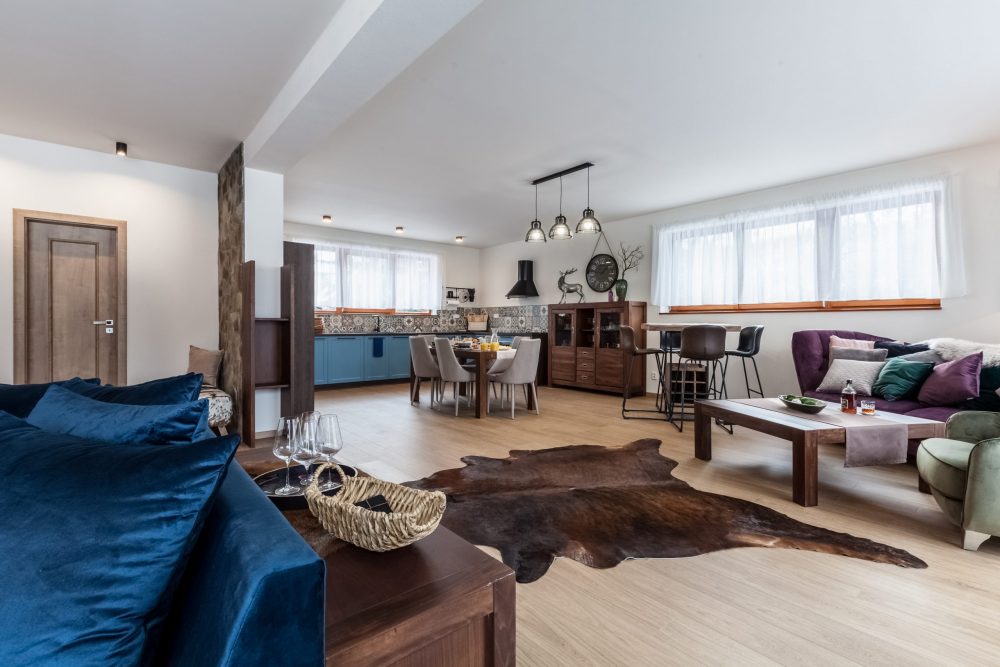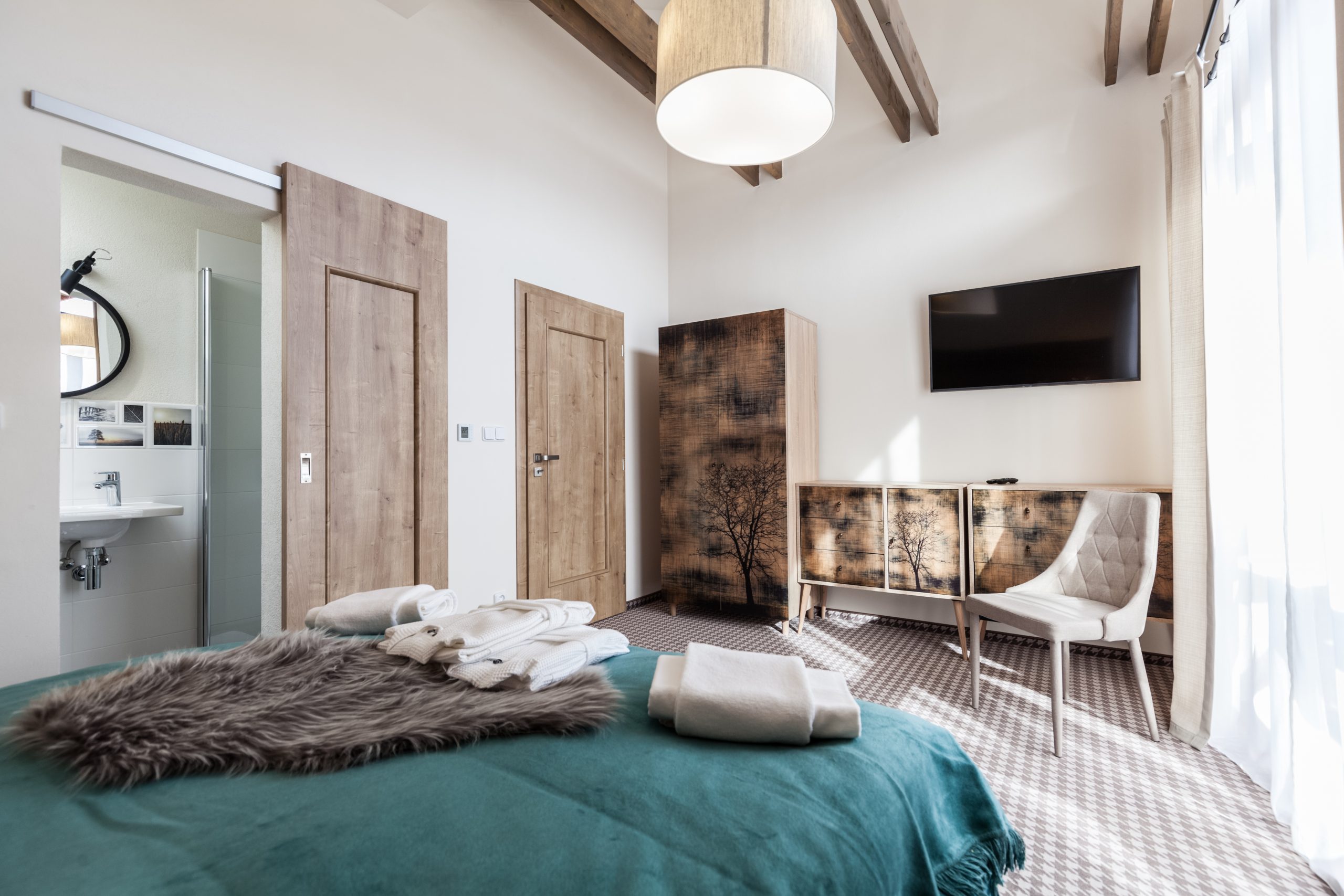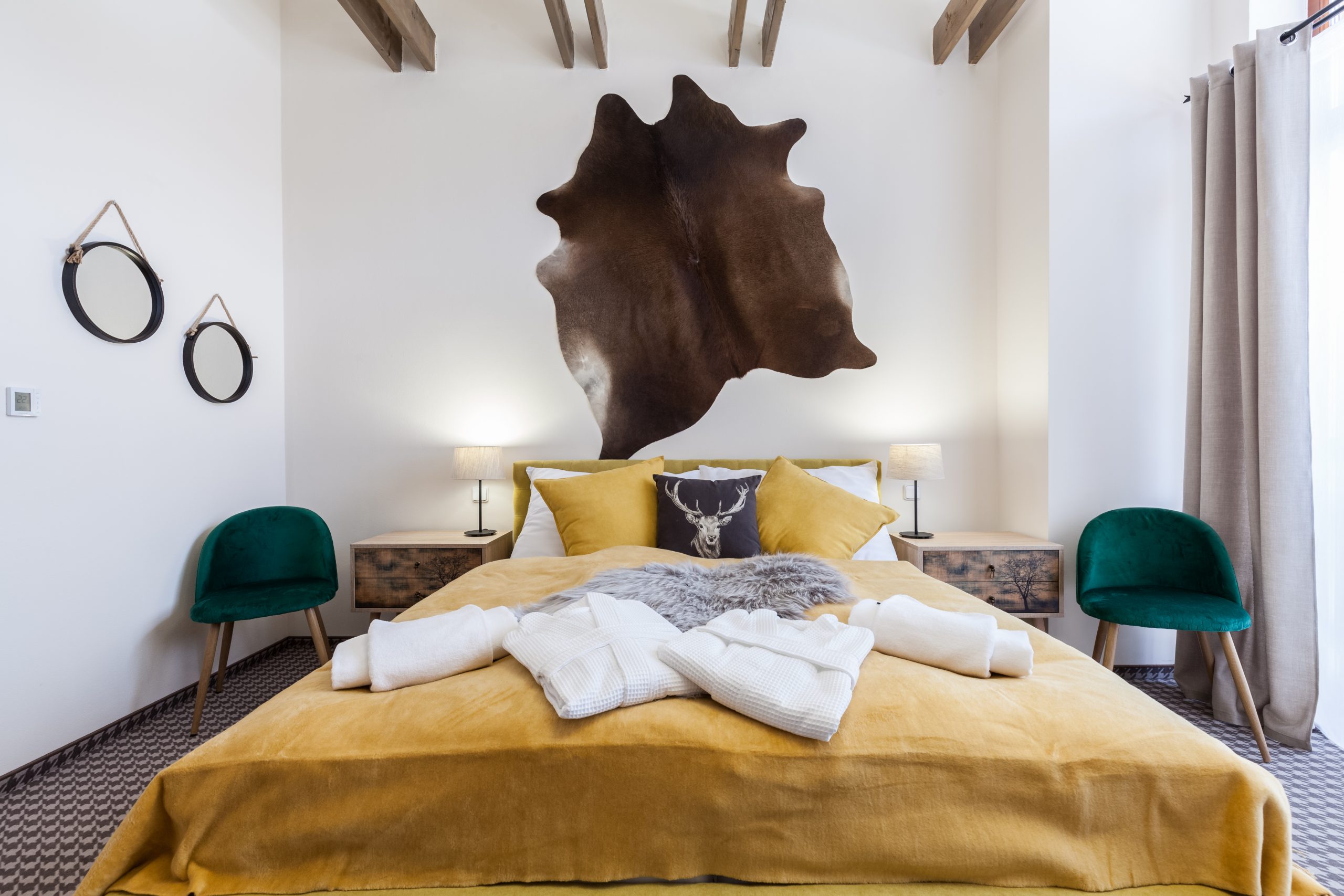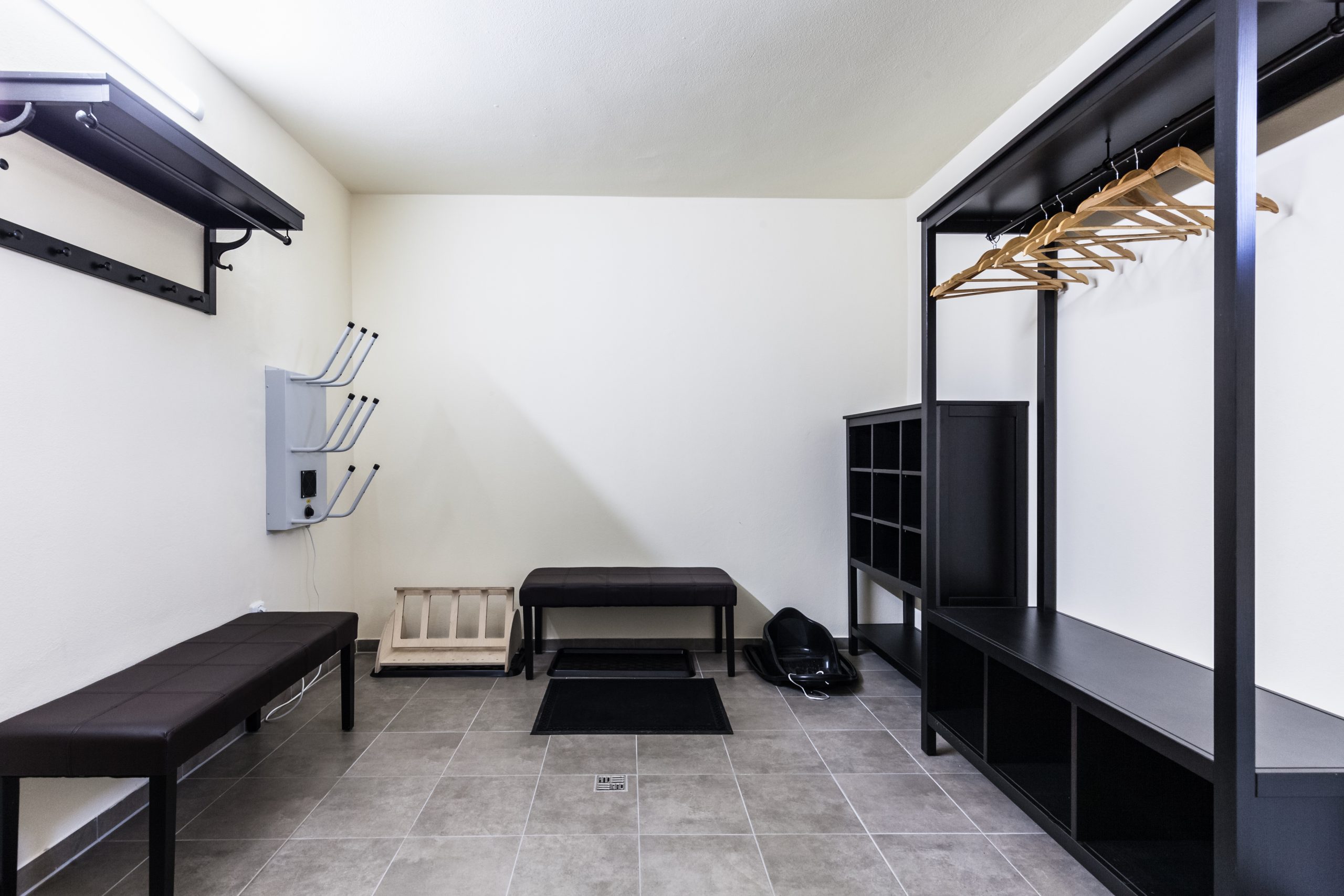 Chalet Ruby is a separate house with its own entrance and facilities with a capacity for up to 10 people. Suitable for families as well as for larger groups who want to spend a stay together in one house. At the Chalet Ruby, you can enjoy the view of the Tatra scenery of Lomnický štít from the private whirlpool on the terrace.
Chalet Sapphire & Emerald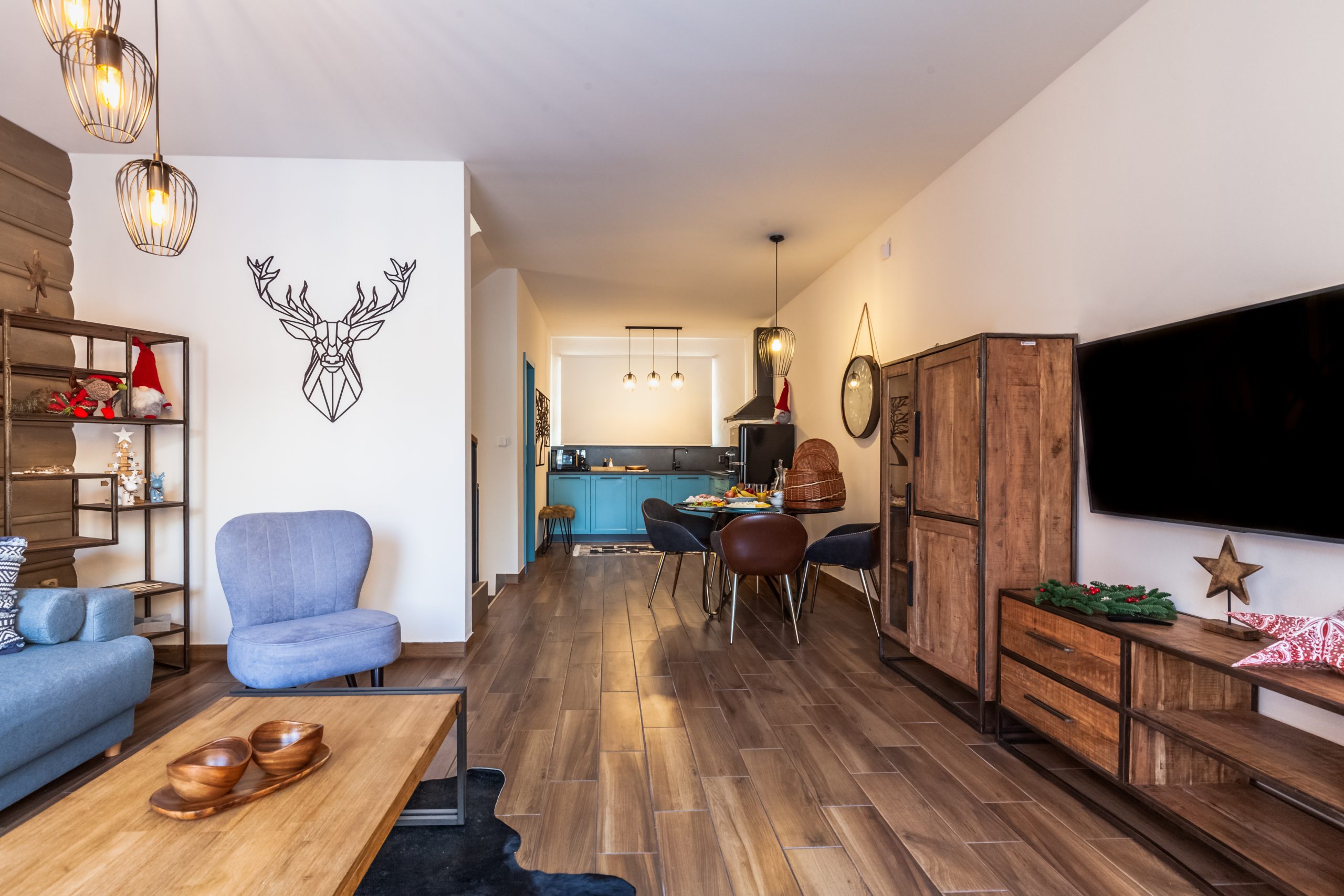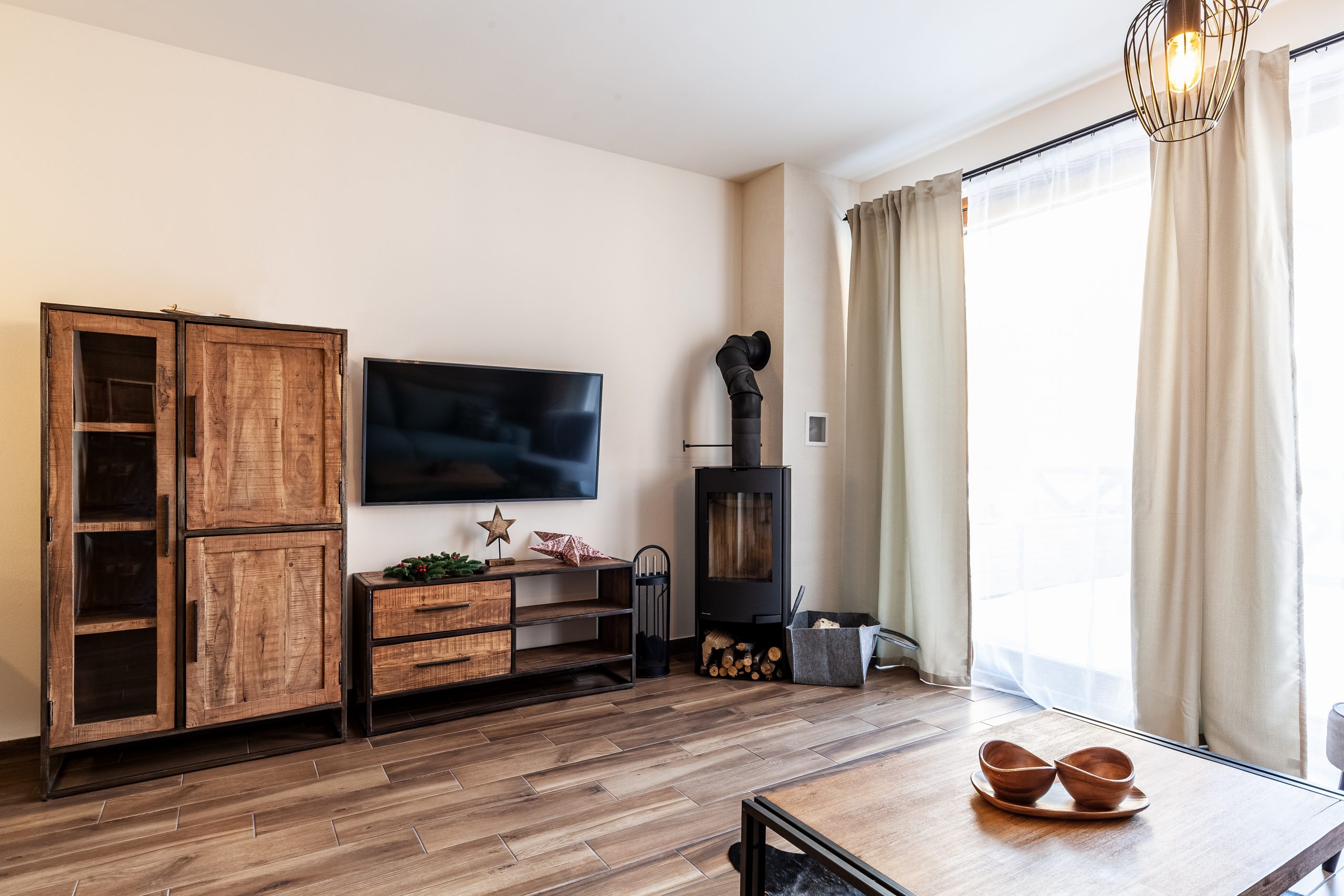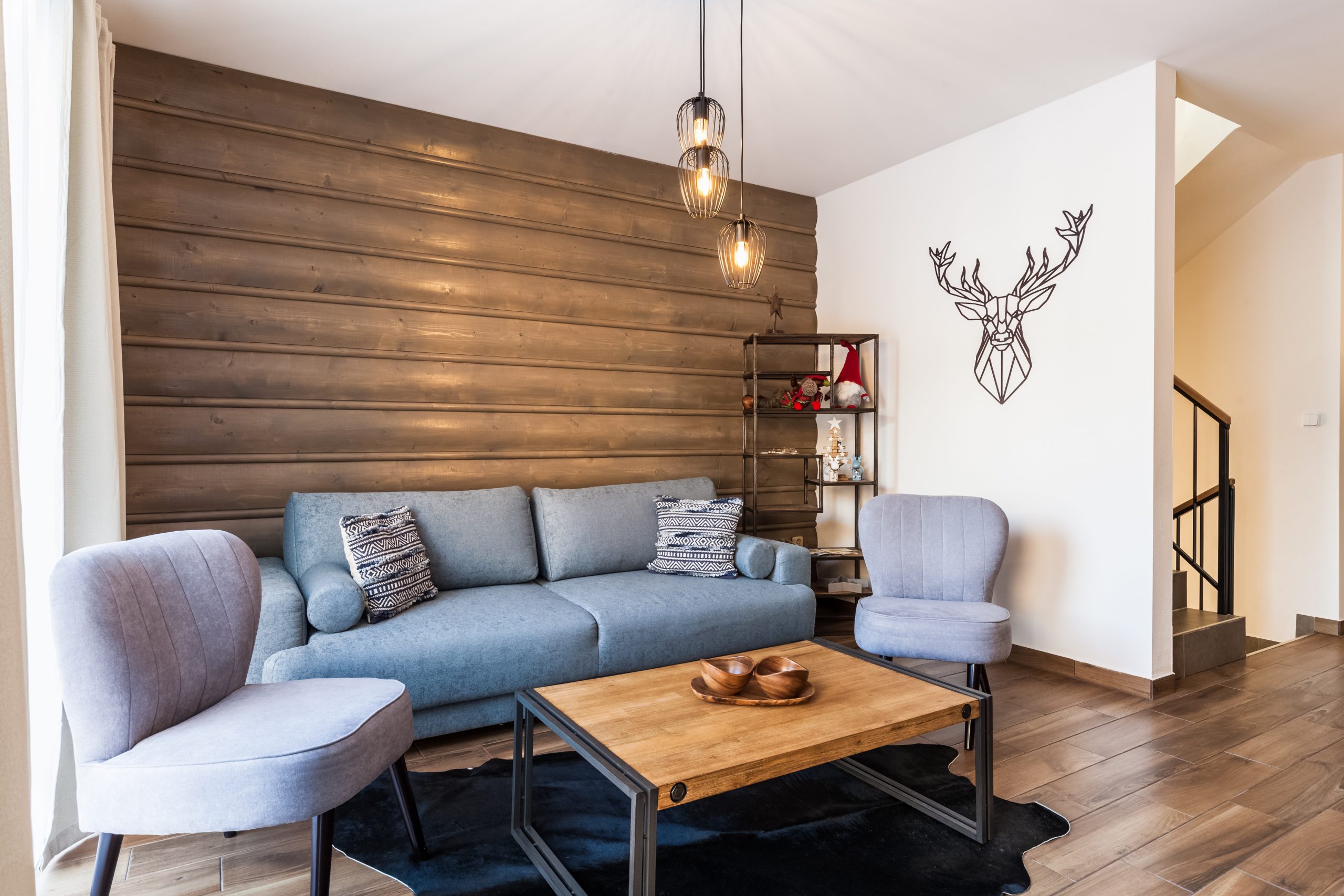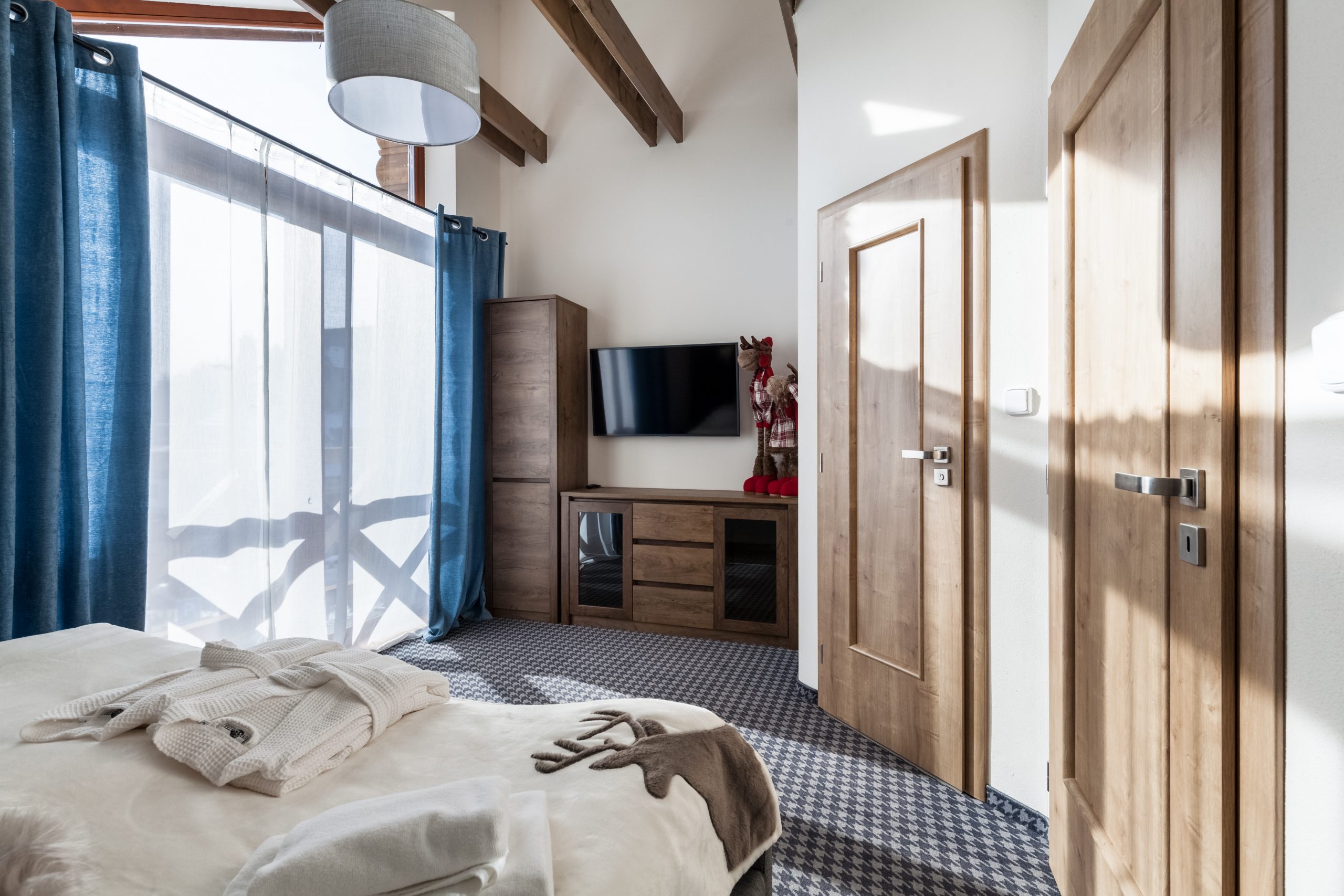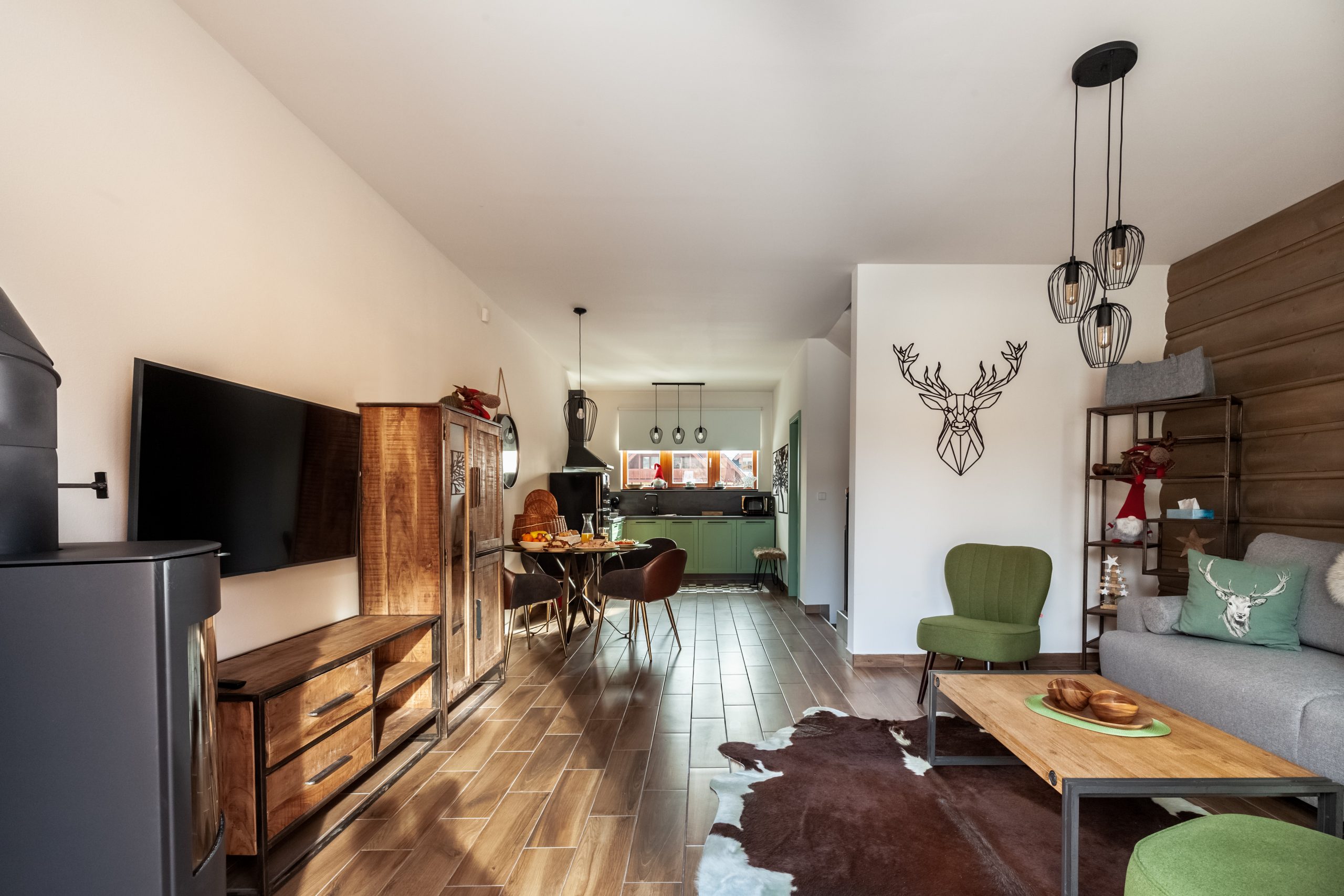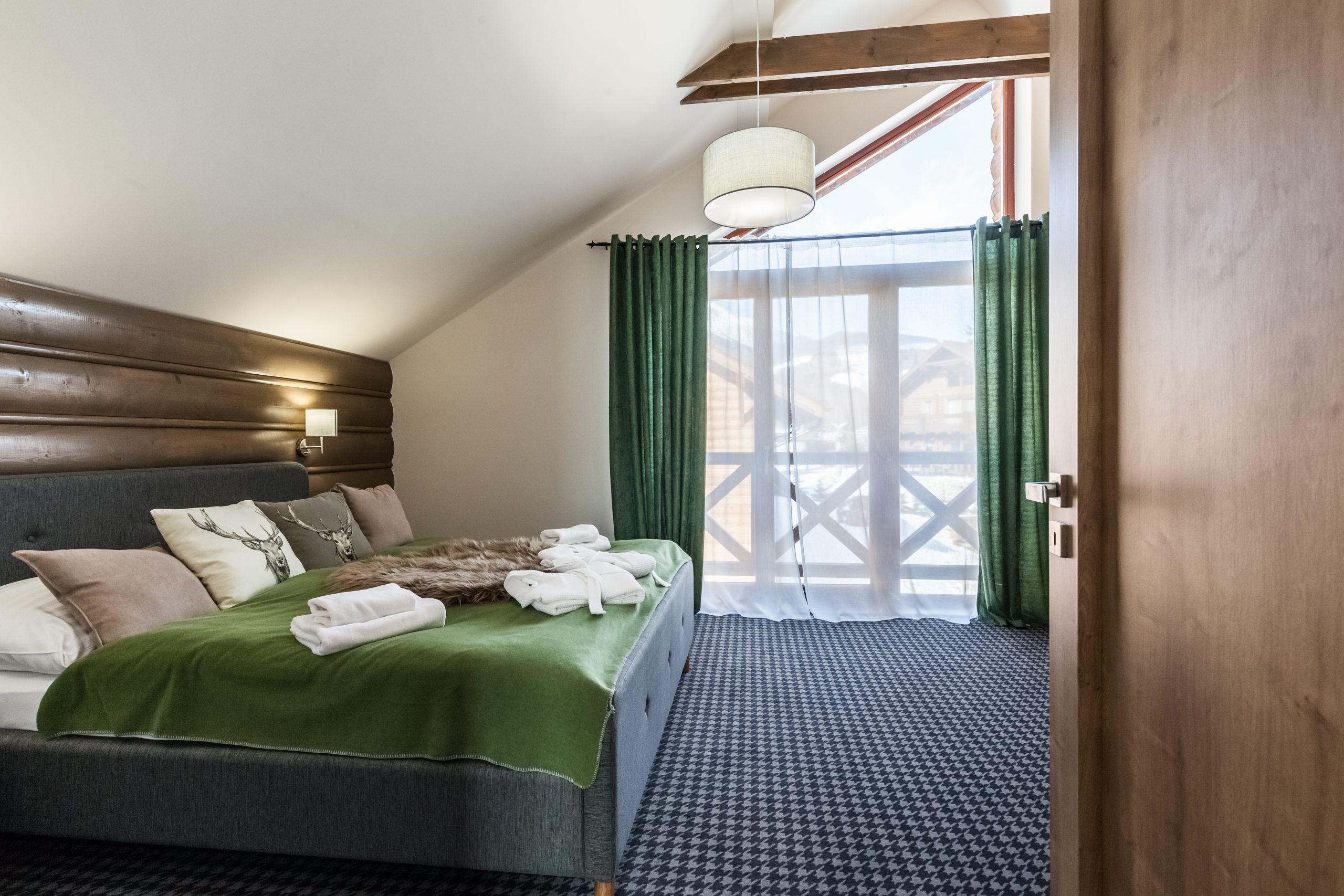 The luxurious Sapphire and Emerald are two identical accommodation units within one cottage. Each contains a separate entrance and is equipped with its own facilities and a terrace. Each can host a capacity of up to 6 people. These units are suitable for smaller families as well as for larger groups of up to 12 people.
Accommodation
Are you interested in our accommodation? See a more detailed description of the equipment and the gallery of each cottage and the area that you will fall in love with.
Online booking
If you are interested, you can make a reservation using the online booking system below. Enter the date and number of people, and choose from the menu according to availability.
Contact & FAQ
Do you have any additional questions? Do not hesitate to check the FAQ or contact us by clicking on the link below. We will answer your questions as soon as possible.
Our reviews

Overená
☺Blizko k svahu

Overená
☺nie mieliśmy śniadań ☹Był hałas związany z budową naprzeciwko domku

Overená
Exceptional

Overená
Chalets Royal, Tatranská Lomnica - nejsem zde naposled 😉 ☺Ubytování výborné, vše čisté, design chaty a zařízení příjemný, kousek od lanovky, dá se dojít i v lyžákách. V okolí několik restaurací, do centra taky "kousek". Až 6 lidí se vyspí bez problémů.

Overená
Exceptional

Overená
☺Ubytovanie bolo neskutočne pekné, čisté. Cítili sme sa tam ako doma. Dobrá komunikácia s majiteľom. Určite sa niekedy vrátime. Nie je nič, čo by sme mohli vytknúť.

Overená
Superb
Overená
Exceptional
Overená
☺Všichni se cítili jako doma, děkujeme!
Dakujeme opat za uzasny pobyt! Vsetko bolo skvele rovnako ako minuly rok. Ciste, uzasna lokalita, vkusne zariadene. Tesime sa opat o rok uz 3x! Beautiful place, very clean and spacy, comfy. Jacuzzi with mountain view. Perfect for 2 families staying together!
Veľmi pekná chata , veľká , izby každá s kúpeľnou , virivka super, vybavenie dostačujúce, hodil by sa možno gril , blízko lanovky a centra , čo je ale nevýhoda pre milovníkov súkromia a ticha. To tam nie je. Nám to vyhovovalo niekomu možno nie. Parkovanie v objekte, vsetko pripravené od dreva až po kapsule do kavovaru. Hodili by sa možno soľ a korenie do kuchyne, ale inak super👍👍
We had an absolutely fabulous stay at Chalet Rubín. The hosts were very easy to communicate with and very nice. We were just a few steps away from the first cable car to Lomnický Štít. Location perfect! Chalet itself was very clean and spacious. Highly recommend!
Pobyt bol vynikajuci. Skvela poloha chaty. Super miejsce😍
Uzasne ubytovanie, vsetko bez problemov
Chalet je skvely. Ma uzasnu polohu a komunikacia bola uplne bezproblemova. Skvele vkusne zariadene, blizko svahov. Dakujeme 🙂
Nádherne ubytovanie Chalet je krasne zariadeny v dobrej lokalite s vyhladom priamo na Lomnicky Stit. Splnil ocakavania pobytu. Vybavenost velmi dobra. Komunikacia s majitelom/prevadzkarom tiez vyborna. Velka spokojnost. Odporucam. Jacuzzi bola skvela bodka po narocnej ture.